Article information
Abstract
Full Text
Bibliography
Download PDF
Statistics
Tables (6)
Table 1. Comorbidities and Demographic Characteristics and of Systemic Lupus Erythematosus at Diagnosis.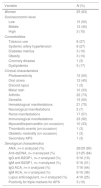 Table 2. Characteristics of Systemic Lupus Erythematosus at the Moment of Surgery.
Table 3. Characteristics of Cardiac Surgery.
Table 4. Main Sites of Infection.
Table 5. Postoperative Outcome in Accordance With the Systemic Lupus Erythematosus Disease Activity Index (SLEDAI-2K) Activity Index.
Table 6. Characteristics of the Patients With and Without Postoperative Infections.
Abstract
Objectives
To study the clinical characteristics and outcomes in systemic lupus erythematosus (SLE) patients who underwent cardiac surgery.
Methods
Retrospective analysis of 30 SLE patients who underwent cardiac surgery at a single center. Demographics, comorbidities, clinical and serologic characteristics, cardiovascular risk scores and treatment were recorded. Type of surgery, postoperative complications, mortality and histology were analyzed.
Results
Disease duration at surgery was 2 years. Valve replacement was the procedure most frequently performed (53%), followed by pericardial window (37%). At least one postoperative complication developed in 63% (mainly infections). An aortic cross-clamp time ≥76min was associated with at least one postoperative complication (OR 6.4, 95% CI 1.1–35.4, P=.03). Early death occurred in 5 patients (17%) and late in 3 (10%); main causes were sepsis and heart failure. Disease activity was associated with pericardial window (OR 12.6, 95% CI 1.9–79, P=.007); lymphopenia≤1.200 (OR 10.1, 95% CI 1.05–97, P=.04); age≤30 years (OR 7.7, 95% CI 1.2–46.3, P=.02); and New York Heart Association class III (OR 7.0, 95% CI 1.1–42, P=.03). Postoperative infection was associated with length of hospital stay≥2 weeks (OR 54.9, 95% CI 5.0–602.1, P=.001); intensive care unit stay≥10 days (OR 20, 95% CI 1.6–171.7, P=.01); duration of mechanical ventilation ≥5 days (OR 16.9, 95% CI 1.5–171.7, P=.01); and pulmonary artery systolic pressure ≥50mmHg (OR 7.8, 95% CI 1.4–41.2, P=.01).
Conclusions
Cardiac surgery in SLE confers high morbidity and mortality. SLE-specific preoperative risk scores should be designed to identify prognostic factors.
Keywords:
Systemic lupus erythematosus
Cardiac surgery
Valve replacement
Pericardial window
Resumen
Objetivos
Estudiar las características clínicas y desenlaces de los pacientes con lupus eritematoso sistémico (LES) intervenidos de cirugía cardiaca.
Métodos
Se realizó un estudio retrospectivo de 30 pacientes con LES y cirugía cardiaca en un solo centro. Se registraron comorbilidades, características demográficas, clínicas, serológicas, riesgo cardiovascular, tratamiento, tipo de cirugía, complicaciones postoperatorias, mortalidad e histología.
Resultados
La duración de LES al momento de la cirugía fue de 2 años. El procedimiento más frecuente fue recambio valvular (53%), seguido de ventana pericárdica (37%). Al menos una complicación postoperatoria se presentó en el 63% (principalmente infecciones). Un pinzamiento aórtico≥76min se asoció con al menos una complicación (OR 6,4; IC 95% 1,1–35,4, p=0,03). La mortalidad temprana ocurrió en 5 pacientes (17%) y tardía en 3 (10%); siendo las causas principales sepsis e insuficiencia cardiaca. La actividad de la enfermedad se asoció a la realización de ventana pericárdica (OR 12,6; IC 95% 1,9–79; p=0,007), presencia de linfopenia≤1.200 (OR 10,1; IC 95% 1,05–97; p=0,04), edad≤30 años (OR 7,7; IC 95% 1,2–46,3; p=0,02) y NYHA clase III (OR 7,0; IC 95% 1,1–42, p=0,03). El desarrollo de infección postoperatoria se asoció con estancia hospitalaria≥2 semanas (OR 54,9; IC 95% 5,0–6021; p=0,001), estancia en UCI≥10 días (OR 20; IC 95% 1,6–171,7, p=0,01), duración de ventilación mecánica ≥ 5 días (OR 16,9, IC 95% 1,5–171,7, p = 0,01) y PSAP≥50mmHg (OR 7,8; IC 95% 1,4–41,2; p=0,01).
Conclusiones
La cirugía cardiaca en LES se asocia a alta morbimortalidad.
Palabras clave:
Lupus eritematoso sistémico
Cirugía cardiaca
Recambio valvular
Ventana pericárdica
Article
These are the options to access the full texts of the publication Reumatología Clínica (English Edition)