Full Text
Sudden sensorineural hearing loss (SSHL) is defined as a sudden deterioration in auditory function of at least 30dB; bilateral presentation (BSSHL) is extremely rare (<5% of all cases of SSHL).1 The known etiological agents are viral infections, tympanic membrane perforation, vascular disorders and autoimmune diseases.2 The autoimmune etiology was proposed by Ernst Lehnhardt in a patient with unilateral SSHL, who subsequently developed the same condition in the other ear.3 He postulated that the damage to the first ear led to the development of antibodies that affected the contralateral ear. The first associations of BSSHL with rheumatic diseases were reported in the 1980s in patients with systemic lupus erythematosus (SLE) and anticardiolipin antibodies (aCL).4 It was during the same period of time that Hughes pointed out the unusual presentations of thromboses, miscarriages and lupus anticoagulant in patients with SLE, an observation that would lay the foundations for the characterization of antiphospholipid syndrome (APS). Since then, the concept of APS has evolved considerably. In recent years, a variant with exclusively microangiopathic involvement (MAPS), in which virtually any organ can be affected, has been recognized.5
A 54-year-old man presented with BSSHL, headache and vertigo. He had had acute pancreatitis with secondary diabetes mellitus 4 years earlier and had a 7-year history of primary hypothyroidism. He underwent a neurotologic examination and, following audiometry, was diagnosed with bilateral neurosensory hearing loss, which was treated with transtympanic dexamethasone. A specialist in infectious diseases prescribed ganciclovir at a dose of 12mg/kg/day for 10 days+prednisone at 50mg/day for 4 weeks. Nerve conduction studies revealed short latency auditory evoked potentials with no response. Speech audiometry showed an absence of response to maximum intensities. The patient was referred to lip and face-reading therapy and to rheumatology because he had been found to have aCL. In the latter department, we reached a diagnosis of APS on the basis of high titers of IgM anti-β2 glycoprotein and aCL, a positive test for lupus anticoagulant and a prolonged activated partial thromboplastin time (aPTT). After immunological studies (Table 1), we ruled out the presence of lupus. In addition, in magnetic resonance imaging (MRI), we observed subcortical hyperintensity in bilateral frontal and parietal lobes, with normal vascular behavior and enhancement, findings that demonstrate microvascular involvement (Fig. 1). As the patient had never had large vessel thrombosis, we concluded that what he had was primary APS in its microangiopathic variant.
| Test  | Result  |
| --- | --- |
| Antinuclear antibodies  | 80 homogeneous, 40 cytoplasmic  |
| Anti-DNA antibodies  | Negative  |
| Anti-Sm antibodies  | Negative  |
| Lupus anticoagulant  | 1.69 (positive <1.2)  |
| IgM anti-β2 glycoprotein  | 3350 (<8U/mL)  |
| IgG anti-β2 glycoprotein  | 6.8 (14.3U/mL)  |
| IgM anticardiolipin  | >255MPL (positive >15)  |
| IgG anticardiolipin  | 46.3GPL (positive >20.1)  |
| Complement C3  | 296.7mg/dL (90–180)  |
| Complement C4  | 29.8mg/dL (10–40)  |
GPL, IgG phospholipid units; MPL, IgM phospholipid units.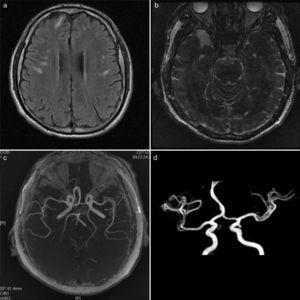 Fig. 1.
(a) T1-weighted magnetic resonance imaging sequence showing a hyperintense area of microvascular damage in white matter of bilateral frontal and parietal lobes; (b) inversion recovery-weighted magnetic resonance imaging sequence showing lesions in right temporal lobe; (c) magnetic resonance angiography showing anterior cerebral circulation with no large vessel involvement; (d) magnetic resonance angiography showing normal circle of Willis.
(0.28MB).
We report a representative case of MAPS, diagnosed on the basis of the high titers of IgM anti-β2 glycoprotein and aCL, the presence of lupus anticoagulant, prolonged aPTT and microvascular signs. Central nervous system involvement was made evident by the typical microvascular changes on MRI, characterized by lesions predominantly in the white matter because of the greater vulnerability of that region to ischemia.6 Bilateral SSHL is a very rare finding and, although its association with aCL is well established, the pathogenic mechanisms remain a mystery. It has been suggested that antiphospholipid antibodies (aPL) activate the endothelium of the cochlear blood vessels and that this overregulation produces local microthrombi and ischemia in the inner ear.7 With respect to the pancreatic manifestations, once other nosological entities have been ruled out, it reasonable to consider that they may be related to MAPS. In this respect, the first case of pancreatic compromise in APS was described by Bird et al.8 and, since then, several cases have been reported. Autopsies show chronic inflammation and thrombosis in pancreatic arteries in the absence of vasculitis.9 Concerning the presence of hypothyroidism, the clinical significance of aPL in thyroid autoimmune disease is still a subject of controversy. Current evidence suggests that the production of anti-thyroglobulin and anti-microsomal antibodies is accompanied by aPL synthesis as an epiphenomenon.10
In conclusion, BSSHL is a medical emergency with an ominous prognosis. There is no consensus with respect to the treatment, but it is highly recommendable that anticoagulation therapy begin immediately. Immunosuppressive therapy has not been found to be useful in the reported cases.
Please cite this article as: Galicia-López A, Anda-Garay JC, García de la Peña M. Anacusia súbita neurosensorial bilateral en un paciente con síndrome antifosfolípido primario microangiopático. Reumatol Clin. 2016;12:175–177.
Copyright © 2015. Elsevier España, S.L.U. and Sociedad Española de Reumatología y Colegio Mexicano de Reumatología